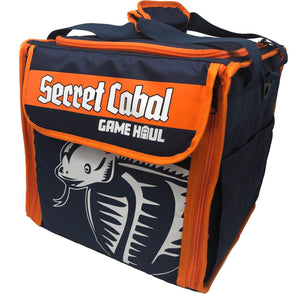 Top Shelf Fun
The Secret Cabal Game Haul
Sale price Price $69.00 Regular price
A 

Top Shelf Fun™

 and

The Secret Cabal Gaming Podcast

collaboration!
Subscribe to the best board game podcast out there!
Are you tired of lugging your favorite board games to a convention using just your unreliable hands and a prayer? Only to potentially damage them or even drop them and lose all those bits and pieces on the way.
Maybe you just recently upgraded to a large plastic grocery store bag, but that's just ridiculous, right? It certainly isn't a branded Cabal bag, is it?
Well, the Secret Cabal Game Haul is a super cool way to showcase your love of the best board game podcast out there! But it is also an economical way to store and transport your favorite games to a game night, convention, or on vacation, while keeping them organized and safe! 
Protect your board games with this strong and durable carrying bag.

Nylon/polyester blend bag features reinforced stitching and 10mm padding.

Adjustable reinforced ergonomic shoulder straps and carry handle make for easy transport. 35lb limit.

Holds up to FOUR 12x12x3 "Ticket to Ride" box-sized board games.*

Side elastic pockets for small games, accessories, or bottles!

Side zipper for quick access to small items.

Top compartment for small games and accessories.

Keeps your board games horizontal while front flap opens up for easy display
*Games not included
About The Secret Cabal:
The Secret Cabal is a York, Pennsylvania based gaming club founded by the hosts of The Secret Cabal Gaming Podcast. The club was originally founded in 2001, but did not become known as "The Secret Cabal" until 2010 when Tony and Jamie were day dreaming of being members of an outlaw motorcycle club. Since neither of us had motorcycles, the next logical choice was to make our gaming club official.
From inception, The Secret Cabal Gaming Podcast was meant to capture the essence of the time's Brian and Jamie spent sitting at the diner, drinking coffee and discussing gaming ad nauseum. We always wanted the show to be friends discussing what they love and hopefully providing both entertainment and useful content in equal measure. We all have differing opinions and varying tastes and we feel that this sets us apart.
We love gaming, the gaming community and the industry and The Secret Cabal Gaming Podcast is our contribution to it. We will produce the show to the best of our ability, never settling for a substandard product or an unpredictable release schedule. This is an obligation to our loyal listeners. We hope that any listener who gives our show a try will find it entertaining and informative.