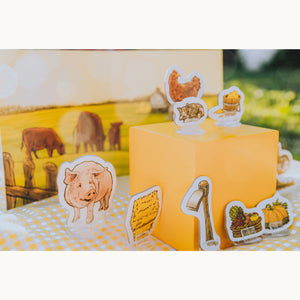 Top Shelf Fun
#3 CUBE: Farming
Sale price Price $ 14.99 Regular price
EXCLUSIVELY FROM TOP SHELF FUN IN ASSOCIATION WITH

 

FLIP FLOREY
.
Are you looking for a unique way to show your love of the board gaming hobby. Something fun to display at work or in your game room? CUBE is a different type of collectible that celebrates the history of gaming and the evolution of theme in a fun and offbeat manner!
CUBE is the original take-an-action figure for tabletop gamers. It is not confined by its physical shape, size, nor its color. CUBE can be a noble warrior that has endured countless dangerous adventures and has lived to tell the tale. CUBE can be the most horrific and grotesque monster in which its very sight will drive you mad. It's the coal for your power plant, or the fuel for your spaceship to travel the stars. CUBE is the very wood to build your home, or vegetables to feed your family. CUBE can be anything you want it to be. The only limit is your imagination.
Adult collectible. For ages 13 and up.
CUBE is for display or play!
Components:
1 3" Wooden CUBE Take-an-Action Figure
1 Thematic CUBE Diorama
13 Plastic Standees
1 Rule Book w/ Thematic Backstory, Tongue-in-Cheek Gameplay Rules and Variants
3 Punchoboards Including:
Thematic CUBE Accessories

1 Side of Build-A-Cube
*Humble art and graphic design by Kiril Tchangov.