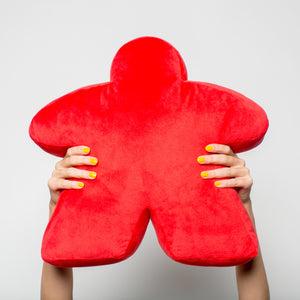 Top Shelf Fun
The Red Meepillow
Sale price Price $ 24.99 Regular price
Introducing the Meepillow - the ultimate comfort companion for board game enthusiasts! Imagine sinking into the soft embrace of your favorite meeple-shaped pillow, transforming your gaming sessions into a cozy and delightful experience. The Meepillow is designed to merge your love for board games and the desire for ultimate relaxation, all in one plush package.
What makes the Meepillow exceptional? First and foremost, its charming and iconic meeple design, reminiscent of the familiar wooden game pieces, instantly connects you to the world of board games. Made from high-quality materials, the Meepillow ensures ultimate comfort and durability, making it perfect for snuggling during long game nights or just adding a touch of gaming nostalgia to your living space.
Available in a variety of vibrant colors, the Meepillow can match your personal style or even your favorite game. Measuring 15 inches in height, it provides excellent support, whether you're strategizing at the game table or unwinding after a competitive session.
The Meepillow is also a fantastic conversation starter and a unique gift idea for your fellow board game aficionados. It's not just a pillow - it's a statement piece that showcases your passion for gaming.
The Meepillow is the ultimate fusion of comfort, style, and gaming spirit. Elevate your gaming experience and cozy up with the Meepillow - the perfect addition to any board game lover's collection!
The red Meepillow is quite the building partner when it comes to deck building situations such as:
Building a backyard deck
Building a rooftop deck
Playing Dominion, Legendary, and Core Worlds